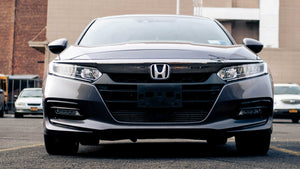 Why is my ABS light on in my Honda Accord?
If the ABS light is on in your Honda Accord, that means the Anti-Lock Braking System is not functioning. A trusted mechanic will be able to pull diagnostic trouble codes for the vehicle, and to inspect the various parts in the system.
Some common reasons your ABS light would come on are a blown fuse for the system, broken or dirty wheel speed sensors, low brake fluid, or the ABS control module not working. These are explained in detail in our post Why is your ABS light on.
While any mechanic can fix issues with fuses, wheel speed sensors, or brake fluid levels, a control module not working becomes a different issue.
What should I do if the ABS control module is not working?
Like all electronics, these modules stop working over time. You can have them repaired by an electrical remanufacturer or replaced. Repairing your existing module is usually cost effective and simple. The specific diagnostic codes that your mechanic pulls for the vehicle can help determine if the unit can be repaired. 
Which control module is in my car?
It can be challenging to determine which ABS module is in your vehicle. Sometimes the modules can differ even between cars that are the same year, make, and model. Having the module removed, or locating it in the vehicle and pulling a part number can help you determine which module you have. You can also call a dealership with your VIN number, and they can look it up for you. 
Nissin ABS Module for Honda Accord & Civic
The 2012-2015 Honda Accord and Honda Civic vehicles have the Nissin ABS Module. If your ABS light is on or the system in not functioning properly our rebuild service may be able to help. If you have a different vehicle or are looking for a different module rebuild shop our ABS Module Rebuilds. 
---